Text copyright © Oct 29, 2012 Dr. Elizabeth A. Garner, All Rights Reserved
                                     BUY THE BOOK!  CRIMES IN THE ART: THE SECRET CIPHER OF ALBRECHT DÜRER
www.amazon.com/Crimes-Art-Secret-Cipher-Albrecht-ebook/dp/B00FNWKYMO
A thistle occurs in four of Albrecht Dürer's compositions.
Thistles occur often in Renaissance art.  In heraldry, it is the official symbol of Scotland. According to the Catholic tradition, the thistle is the symbol of earthly sorrow and sin and Christ's Passion because of its connection with the thorns used to crown Christ.
THE LOVE STRUCK BRIDE GROOM?
The first time that we see a thistle  in Dürer's art is in this 1493 self-portrait. The thistle that Dürer holds in the painting was identified as "Männertreu," commonly known as sea holly.  Sea holly, Eryngium maritime, was considered to be a strong aphrodisiac. Because of this thistle, it is often believed that Dürer painted this image as a "bridegroom" portrait, one that was eventually to be delivered to his future fiancée, Agnes Frey, while he was away from Nuremberg.  He added an inscription of two lines at the top of the portrait that says "My sach die gat/Als es oben schtat (My fate is determined above)."  The verse imitates the Alemannic dialect of the Upper Rhine. For more on the Alemanni: http://en.wikipedia.org/wiki/Alamanni
The second time we see this thistle is in what is considered Dürer's first engraving (1495):
This print is considered to be about illicit love of some kind, for the woman is depicted as a married woman by her clothes, the man is naked, and the couple seems to be caught in some sort of sexual encounter.  Again the thistle in the upper left area was considered to be sea holly.
WHO IS THIS WOMAN?
The third time Dürer used this thistle symbol is in this 1495 print:
Here we have the thistle held in the woman's hand, which she rests on a piece of cloth on a pilgrim's staff.   Nothing about this composition seems to suggest love or sex, except that the woman possibly is pregnant (or she just has a large belly, which might have been fashionable).
The final time Dürer used a thistle symbol is in this painting:
For the longest time, this painting was considered to be a portrait of Katarina Fürlegerin, because of the coat of arms that was added to the painting at a later date.  It is now speculated that this painting may be one of Dürer's seven sisters. And again, it is considered potentially as a bride image because of the sea holly thistle.
We can see clearly that the thistle in each composition is the same plant. But is the thistle  really sea holly? Dürer was known for his incredible botanical accuracy as we see here in his illustration of the great turf:
SECRET PLANTS
This is what sea holly looks like:
If we compare the thistle Dürer holds in his hand and depicted in the other three works of art, the thistle does not in any way match sea holly.
And that's where art historians made the mistake, for the plant that Dürer holds or is in the other three images is not sea holly.  What plant is this?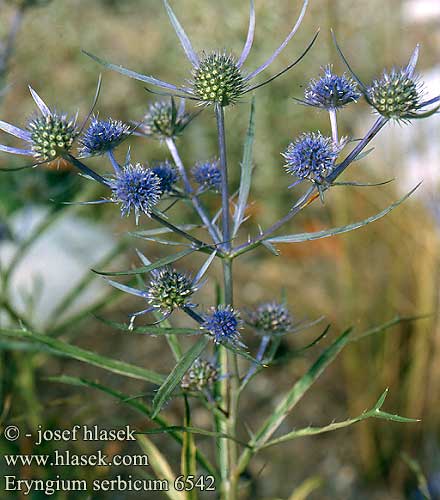 This plant is known as Eryngium Serbicum, a thistle found only in Hungary and the Balkans.
So what is Dürer trying to tell us with this thistle if it's not about love or sex?
In heraldry, the thistle is associated with nobility (the thistle is the official heraldic symbol of Scotland).  In my previous article Dragons, Dracula, and Dürer, I have indicated that Dürer may be giving us messages about his possible Hungarian ancestral nobility.
Is the thistle in each of these images signifying that Hungarian noble connection again?  The evidence is mounting up.