Copyright Dr. Elizabeth Garner All Rights Reserved
One of my Dürersleuths, Joe Kiernan, sent me this extraordinary email, that had my head reeling.  Joe had to go rescue his sister from a car accident (I believe all are well) and had to spend time in the hospital waiting for his family members. Whilst there, he was doing Dürer research looking at the 1497 painting of Margret Dürein when a doctor walked by.  Here's what Joe wrote me:
"The doctor at the hospital saw me looking at the painting of Margret.  He did not know art, at all.  Maybe even unaware such a craft existed.  Anyhows, he asked me if the painting was very old or a FAKE.  "its very old, 500 years" I replied.  He said why would someone from 500 years ago paint someone with cerebral palsy…."how can you tell that, he said its obvious, her hand was probably twisted a little bit…..I thought that was amazing, how could nobody else in 500 years make a claim as such. He said the shoulder lines were a signal as well. Either he was dead right or just happened to guess just right."
My response was the following:
"No he wasn't correct.  It was an inherited deformity of the thumb knuckle, Al has it too. Al's hand was twisted a bit, you can see in his drawings where his hands are visible.
NO ONE WITH CEREBRAL PALSY could have drawn or painted that good, let alone two geniuses. But that's really cool what the doc said, I WILL check out to see if it's possible, but I doubt it, the prints tell us she had a twisted FOOT.
The idea of TWO CEREBRAL PALSEY ARTISTS doing that type of work including micro-engraving makes no sense and rather seems an impossibility.  And Albrecht was partying up a storm and dancing in Italy, no one would have had anything to do with him if he had cerebral palsy.
But I will check anyway. it's very interesting."
And so suddenly I found myself researching cerebral palsy in medieval times.  And I'm astonished to find out it's a VERY REAL POSSIBILITY that these two genius artists did have palsy, which boggles the mind based upon the incredible complexity of the compositions, the subliminal sex images and other images microengraved, and the messages encoded.
And so I present to you the evidence for you to evaluate.
Cerebral palsy
Cerebral palsy is an umbrella-like term used to describe a group of chronic disorders impairing control of movement that appear in the first few years of life and generally do not worsen over time. The disorders are caused by faulty development of or damage to motor areas in the brain that disrupts the brain's ability to control movement and posture. Symptoms of cerebral palsy include difficulty with fine motor tasks (such as writing or using scissors), difficulty maintaining balance or walking, involuntary movements. The symptoms differ from person to person and may change over time. Some people with cerebral palsy are also affected by other medical disorders, including seizures or mental impairment, but cerebral palsy does not always cause profound handicap. Cerebral palsy may be congenital or acquired after birth http://corrosion-doctors.org/Elements-Toxic/Mercury-toxicology.htm
Deformations have been attributed to supernatural causes since antiquity. Cerebral palsy was associated with God's wrath, witchcraft, the evil eye, or maternal imagination. Greek scholars recommended prevention by tight swaddling, a custom that persisted into modern times. In the Middle Ages, the midwife's negligence was held responsible as was difficult teething. Although a causal relationship of cerebral palsy to the birth never has been established, the habit to put the blame for cerebral palsy on someone remained a frequent attitude. From the Department of Neonatology, Charité University Medicine Berlin, Berlin, Germany. michael.obladen@charite.de
THE SHOULDER EVIDENCE THE DOCTOR WAS SEEING:
In the upper extremity OF SOMEONE WITH CEREBRAL PALSY, the typical pattern of spastic joint posturing includes shoulder internal rotation, elbow flexion, forearm pronation, wrist flexion and ulnar deviation, thumb-in-palm, and finger swan-neck or clenched fist deformities.
This would explain the thumb joint deformity we can see in both Margret's painting and Albrecht's many self portrait drawings of his hands. Although this pattern of deformity is the most common, the particular pattern and severity are individual to each patient on the basis of the extent and area of the underlying central nervous system disorder.
Spasticity in the hand does not occur as an isolated problem. Motor involvement can take the form of spasticity (increased tone), flaccidity (decreased tone), or athetosis (lack of or poor control of tone). The interplay of these various types of motor involvement is an important part of defining the problem. In evaluating a particular joint deformity, several forces often work together to exacerbate the joint deformity.
Several disease processes that involve upper motor neuron lesions due to brain dysfunction are considered together because they have a single final common pathway: spasticity in the hand. Traumatic brain injury is the most commonly seen in patients younger than 40. Cerebral palsy is most commonly secondary to ischemic central nervous system injuries occurring in the perinatal period,ie. in the womb.
Clin Orthop Relat Res. 1999 Jul;(364):194-204.
Femoral anteversion and neck-shaft angle in children with cerebral palsy.
AND THIS IS POSSIBLE BECAUSE MARGRET WAS A TWIN, THE INJURY COULD HAVE HAPPENED IN THE WOMB IF MOM FELL OR HAD SOME ACCIDENT, since Barbara, the mother was always constantly pregnant with 18 children.
SO WHAT ABOUT MARGRET'S TWISTED FOOT AS THE PRINTS TELL US SHE HAD? WHAT IS CEREBRAL PALSY ANTEVERSION?
Symptoms:
parents complain of an intoeing gait in early childhood
knee pain when associated with tibial torsion
awkward running style
when extreme in an older child occasional functional limitations in sports and activities of daily living can occur
difficulty with tripping during walking or running activities
COXA VALGUS IN CEREBRAL PALSY
Coxa valga is a deformity of the hip where the angle formed between the head and neck of the femur BONE and its shaft is increased, usually above 135 degrees. It is caused by a slipped epiphysis of the femoral head. The diagnoses includes neuromuscular disorders (i.e. cerebral palsy, spinal dysraphism, poliomyelitis), skeletal dysplasias, and juvenile idiopathic arthritis. THIS WOULD EXPLAIN MARGRET'S TWISTED FOOT
CAN BONE LESIONS TELL US IF A MEDIEVAL PERSON HAD CEREBRAL PALSY?
I asked myself if there could actually be some sort of detectible bone lesion left behind on a skeleton if a medieval person had cerebral palsy just as bone lesions in ancient skeletons can reveal if a person had syphilis or plague or many types of diseases? The answer turned out to be yes, in the leg femur.  I found the scientific abstracts of the Paleopathology Association, which listed what scientific papers had been presented in 2013.
And here's what I found:
IMPAIRED, NOT 'DISABLED': INDICATORS OF CEREBRAL PALSY ON THE 16TH CENTURY ENGLISH WARSHIP MARY ROSE
Rose Drew1
                  1Department of Archaeology, University of Winchester UK
The Mary Rose is an English warship that sank near Portsmouth UK in 1545 during an engagement with the French. Ninety-eight femora from the shipwreck are examined for anteversion and coxa valgus outside the range of normal adult values. Anteversion is known as in-toeing in a person's gait. 
Reported values for typical adult non-hunter-gatherer femoral neck torsion and neck-shaft angles are 8-19 degrees for anteversion, and approximately 125 degrees for neck-shaft angles. Ten femora (10.2%) have one or both traits suggestive of CERBRAL PALSY.  6 femora are anteverted 30-45 degrees, with one also 140 degree valgus. Four have 27-28 degrees anteversion, one also 144 degree valgus. The two femora with both traits are not from the same individual. Alternative diagnoses include idiopathic anteversion; congenital hip dysplasia; and bone changes due to extreme activity in youth.
Individuals from the Mary Rose with possible Cerebral Palsy were employed at time of death, and thus support recent disability/impairment literature that suggests in medieval Europe, productive membership in society was tied to the tasks one could do, rather than tasks one did not.
In studies of archaeological human remains, reported anomalies suggestive of Cerebral Palsy (CP) include hip dysplasia; Talipes equinus; and flexion contractures. Based on clinical studies, lower limb traits indicative of CP relate to retention of infantile bone morphology due to abnormal muscle loading. In the femur, this can present as maintenance of infantile anteversion and coxa valgus.
Whilst these conditions suggest the potential for difficulty in walking, they do not preclude it, with ambulation dependent upon the degree of anteversion and coax valgus.
WHY MARGRET WOULD HAVE HAD A "BACKWARD FOOT"
All of the above would explain WHY Margret was depicted as having a "backwards" foot in the art, explains the deformed thumb joints that both Albrecht and Margret had, as depicted often in Albrecht's drawings where he draws his own hand and in her painting.
AND WE CAN PROVE THIS FOR ALBRECHT ALSO:
YOU ARE NOT WHAT YOU EAT DURING STRESS: ISOTOPIC EVALUATON OF HUMAN HAIR FROM BELLEVILLE, ONTARIO
Lori D'Ortenzio1 & Tracy Prowse1
1Deptartment of Anthropology, McMaster University, Canada
dortenl@mcmaster.ca
Carbon and nitrogen isotope ratios in sequential segments of human hair keratin provide an archive of temporal fluctuations in isotopic composition close to the time of an individual's death. By combining stable isotope analysis with a microscopic examination of hair, this research explores health status prior to the death of early settlers from St. Thomas' Anglican Church cemetery in Belleville, Ontario (1821-1874). The purpose of this study is to determine if there is a consistent difference in carbon and nitrogen isotopic signatures along sequentially segmented hair in individuals who have observable pathological conditions versus individuals who display no osteological evidence of pathology. Elevated nitrogen values can be associated with physiological stressors such as chronic illness, infection, or injury that affect an individual's metabolism. Higher nitrogen values may represent a recycling of nitrogen derived from the breakdown of existing proteins in the body and subsequent tissue repair. Results on ten individuals indicate that δ15N values are approximately 1‰ higher if an individual was suffering from a pathological condition (e.g. bone infection or fracture). The variability in nitrogen values of 1‰ over the expected trophic level shift may be indicative of factors such as nutritional or physiological stress. These results suggest that δ15N values are not only useful for studying diet, but may also be used as indicators of physiological stress
A lock of hair was cut off from Albrecht when he died by Willibald Pirkheimer and is preserved in a German museum.  Not only can we prove or disprove Cerebral palsy, We NOW have the capability of finding any Dürer descendants that are walking the face of the earth today.
WHICH BRINGS US TO: WAS THERE ANY JEWISH CONNECTIONS FOR THESE CONDITIONS
Since the Dürer's were crypto-Jews, the question also had to be answered, could there be a genetic Jewish disease that mimicked cerebral palsy and that answer is yes.
Mucolipidosis type IV is an inherited disorder characterized by delayed development and vision impairment that worsens over time. The severe form of the disorder is called typical mucolipidosis type IV, and the mild form is called atypical mucolipidosis type IV.
Approximately 95 percent of individuals with this condition have the severe form. About 5 percent of affected individuals have atypical mucolipidosis type IV. These individuals usually have mild psychomotor delay and may develop the ability to walk. People with atypical mucolipidosis type IV tend to have mild eye abnormalities than those with the severe form of the disorder.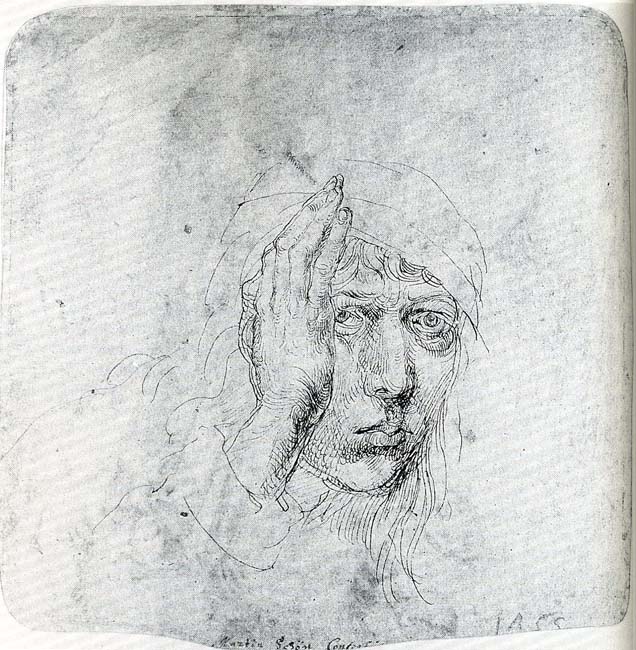 If you look at Durer drawing self-portraits, you can see that his eye was like a "lazy" eye.  That is one of these eye abnormalities of mucolipidosis type IV.
How common is mucolipidosis type IV?
Mucolipidosis type IV is estimated to occur in 1 in 40,000 people. About 70 percent of affected individuals have Ashkenazi Jewish ancestry. Which is the ancestry that the Durer's would have had. The Dürers were of Askenazi descent though the Khazars.  Dürer self-portrait drawings show that he had a mild eye abnormality, which he drew.
ARE PEOPLE WITH CEREBRAL PALSY CAPABLE OF EXTRAORDINARY TALENTS?
And so then question became can people with cerebral palsy be capable of extraordinary talents? The answer IS YES.  Many of Cerebral Palsy people are savants, especially in the areas of ART AND MATH. Albrecht was a savant in both and Margret at least in art.  The proof of this was published in Scientific American in 2002, in their article titled Islands of Genius
%20wallace%20.pdfhttp://www2.sunysuffolk.edu/benharm/Articles/islands%20of%20genius%20-%20treffert%20and
SO THIS brings up a very interesting situation.  We really don't know where Albrecht's bones finally ended up, because he got buried in the St. John's cemetery OUTSIDE the city first when he died April 6, 1528.  In actuality, the City Council Patricians would survey the households of Nuremberg in the fall asking if it was likely someone would die over the winter and they would pre-dig graves for winter deaths.  Because it was too cold to bury Albrecht at the churches in April, and he was not on the expected to die list, Albrecht got put in his father-in-laws tombstone, Hans Frey.  His bones probably have been moved, who knows where?
BUT MARGRET IS BURIED AT ST. LORENZ CHURCH. 
IF THE GERMANS HAVEN'T DUG HER UP YET AND MOVED HER BECAUSE OF WHAT I'M WRITING, SHE COULD BE FOUND AND THEN WE HAVE EVERYTHING TO PROVE WHETHER THEY HAD CEREBRAL PALSY OR NOT AND FIND THE DÜRER DESCENDANTS.
IT HAPPENS EVEN TODAY-CURRENT HEARTTHROB R. J. Mitte HAS CEREBRAL PALSY
The near-hysterical screams that met actor R.J. Mitte on the red carpet at the Golden Globes this year were befitting of a bona fide teenage heart-throb.
The strikingly handsome 20-year-old now takes such adulation in his stride, having been a fixture for the past five years in the critically acclaimed US TV drama series Breaking Bad – the nail-biting conclusion of which will be screened next month.
His nuanced and at times heartbreaking portrayal of a young disabled man, Walt Junior, struggling to cope with his father's terminal cancer and his own physical problems, has won him unanimous praise.
However, what marks out R.J. – real name, Roy Frank – is that he has the same disability as his character on screen: cerebral palsy (CP).
The neurological condition normally occurs before or during birth for a number of reasons – usually lack of blood supply and therefore oxygen – meaning parts of the brain die or do not develop.
The damage leads to, among other things, problems with muscle development, control and movement.
In Breaking Bad, Walt Jnr relies on crutches. But, while R.J. spent his childhood in leg braces – CP causes involuntary muscle contractions that can lead to difficulty in straightening the limbs – his love of sport and exercise means that he now walks unaided.
SO ALL CAN BE PROVED IF THE GERMANS HAVE NOT ALREADY DESTROYED THE EVIDENCE.
Which brings us to the most mind-boggling idea of all-two geniuses encoding messages who could have had cerebral palsy, in the same studio, and doing such fine motor work microengraved and hidden in plain sight.
THE DISABLED HAVE NEW HEROS AND REPRESENTATIVES-ALBRECHT DÜRER AND MARGRET DÜRERIN
 NEVER MAKE AN ASSUMPTION!