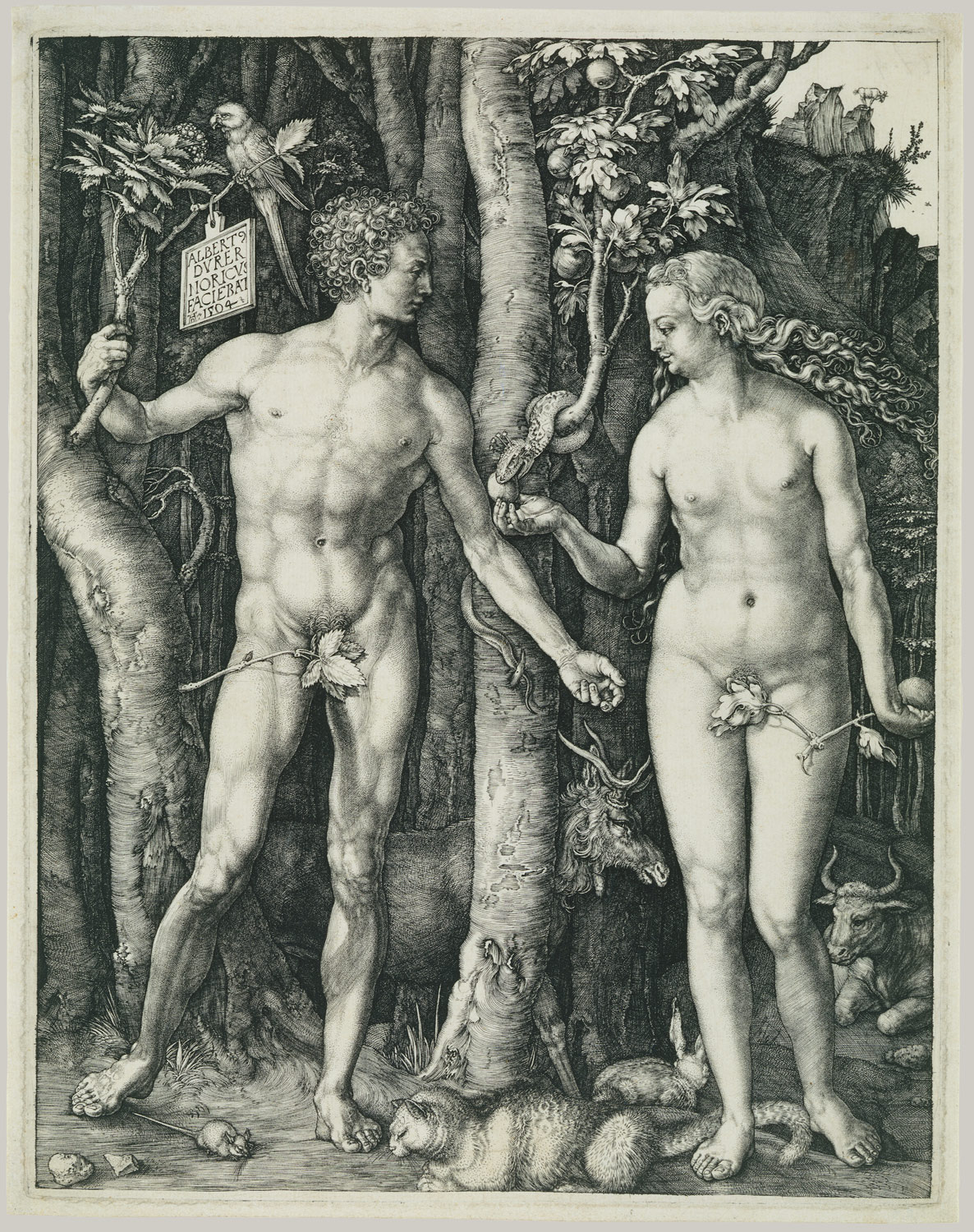 The 1504 Adam and Eva
Copyright March 2015, By Dr. Elizabeth Garner, All worldwide rights reserved to all images and text.
The common interpretation of this print is summed up in the following quote "The enormously influential Fall of Man(Adam and Eve) is the only print to which Dürer signed his name in full, indicating the importance he placed on this work in his own oeuvre." Notice that researchers opine that we can tell how important this print is to Dürer because they believe he signed his name in full in this print, not any of the imagery.
WHAT'S IN A NAME?
We only know 13 names that Dürer assigned to his prints, Adam and Eva having been one of them and this is obviously that print. Rarely do researchers ever pay attention to a known name that Dürer gave to a print or painting without either completely ignoring it or changing it to some sort of Christian name, such as what was done with Adam and Eva to "The Fall of Man," and then opining whatever they wanted according to this Christian demagoguery.
How important was this composition to him really? Let's do an analysis Dürer looking at what he recorded of who he either sold this to or gifted during 1520-1521, in his Diary of his Netherlands Journey. The higher in social position that the person was that he gave the print to indicates it's importance to him. All these sales or gifts occurred in Antwerp or Brussels.
THE REALLY IMPORTANT PEOPLE
On 8-20, 1520, in Antwerp, he presented Adam and Eva to the Faktor of Portugal, Joao Brandao, one of the most powerful men in the entire realm, an Adam and Eva along with 6 other prints that were about his family. The importance of why Brandao why got this encoded prints to the Portuguese first is  discussed In the 1521 St . Jerome painting.
Albrecht Dürer (1471-1528), Drawing of Katharina, the shy 20-year-old servant or slave of the Antwerp agent of the king of Portugal, João Brandão, who provided Dürer with lodgings during his visit to Antwerp in 1521. Monogrammed AD, dated 1521 and inscribed Katharina allt 20 Jar. Florence, Uffizi.
Later in the year, he gives the same set of prints to Rodrigo Fernander d"Almand (Ruderisco von Portugal), the 1st Secretary to Joao Brandao (1521-1550), which Dürer notes was worth 5 gulden, so he had raised his prices dramatically since his arrival in Antwerp
He then sells one Adam and Eva to an unknown person on Sept 9, 1520 for 4 stuivers (a pittance, he was giving tips to porters of 2 stuivers), probably a print dealer
He then sells 2 more Adam and Evas on November 24, 1520 to an unknown person along with an enormous amount of other stock, including books, all for 8 gulden, again probably to a print dealer based on the size of the stock sold and the small price he got for such a horde.
THE MOST IMPORTANT PERSON OF ALL-THE REGENT MARGARET IN CHARGE OF HER SON CHARLES V, THE SOON TO BE HOLY ROMAN EMPEROR
He then gave the Regent Margaret, the dead Holy Roman Emperor's daughter, all of his best stock, which included an Adam and Eva.
EVEN THE KING OF DENMARK GETS AND ADAM AND EVA
And then in 1521 he was dispatched from Brussels on the "King's business," which in this case, was the King of Denmark, to whom he gave the best of his best, which included Adam and Eva, which he valued the whole gift at 5 gulden.
Thus Dürer made sure the King, the Regent (basically the Holy Roman Empress) and the two most important men of Portugal around, got the Adam and Eva print, and three more were sold to print dealers. This image was indeed very important to Dürer, which he only called Adam and Eva, NOT the Fall of Man.
THERE IS NO "FALL OF MAN"
We will completely dispense with any discussion about this print as the The Fall of Man since it was never anything Dürer intended, and in fact the composition isn't even taking placing in the Garden of Eden. Remember, it's called Adam and Eva, not the Garden of Eden at any time.
We will show that none of this interpretation is true nor does it make sense. The Dürers were using an underlying them of the Seven Deadly Sins in the compositions and this print of Adam and Eva represents the Deadly Sin of Lust.
DANTE'S HELL AND THE SEVEN DEADLY SINS
So let's begin with the definition of the Deadly Sin of Lust-Luxuria. We refer to Dante Alligheri's interpretation of Lust since Dante's Inferno was the source of how the Seven Deadly Sins were defined and perceived:
 Lust – excessive sexual desire. Dante's criterion was "lust detracts from true love." In the Latin lists of the Seven Deadly Sins, Lust is referred to as Luxuria. "Lust — Unlawful sexual desire, such as desiring sex with a person one is not married to (fornication). (Dante's criterion was "excessive love of others," thereby detracting from the love due God)."Lust objectifies love. When lust is used to dehumanize another, it demeans not only the object of the lust, but one's own self as well. Lust overrules our empathy and compassion.
THE ILLEGAL FORNICATORS
We will ultimately find that the Dürers are depicting unlawful sex-fornication-it is just a matter of decoding who the real fornicator(s) are-which are four figures-Adam, Eva, and the Snake and the parrot-all four are illegal fornicators.