COPYRIGHT FEBRUARY 2014, ALL RIGHTS RESERVED BY DR. ELIZABETH GARNER AND JOE KIERNAN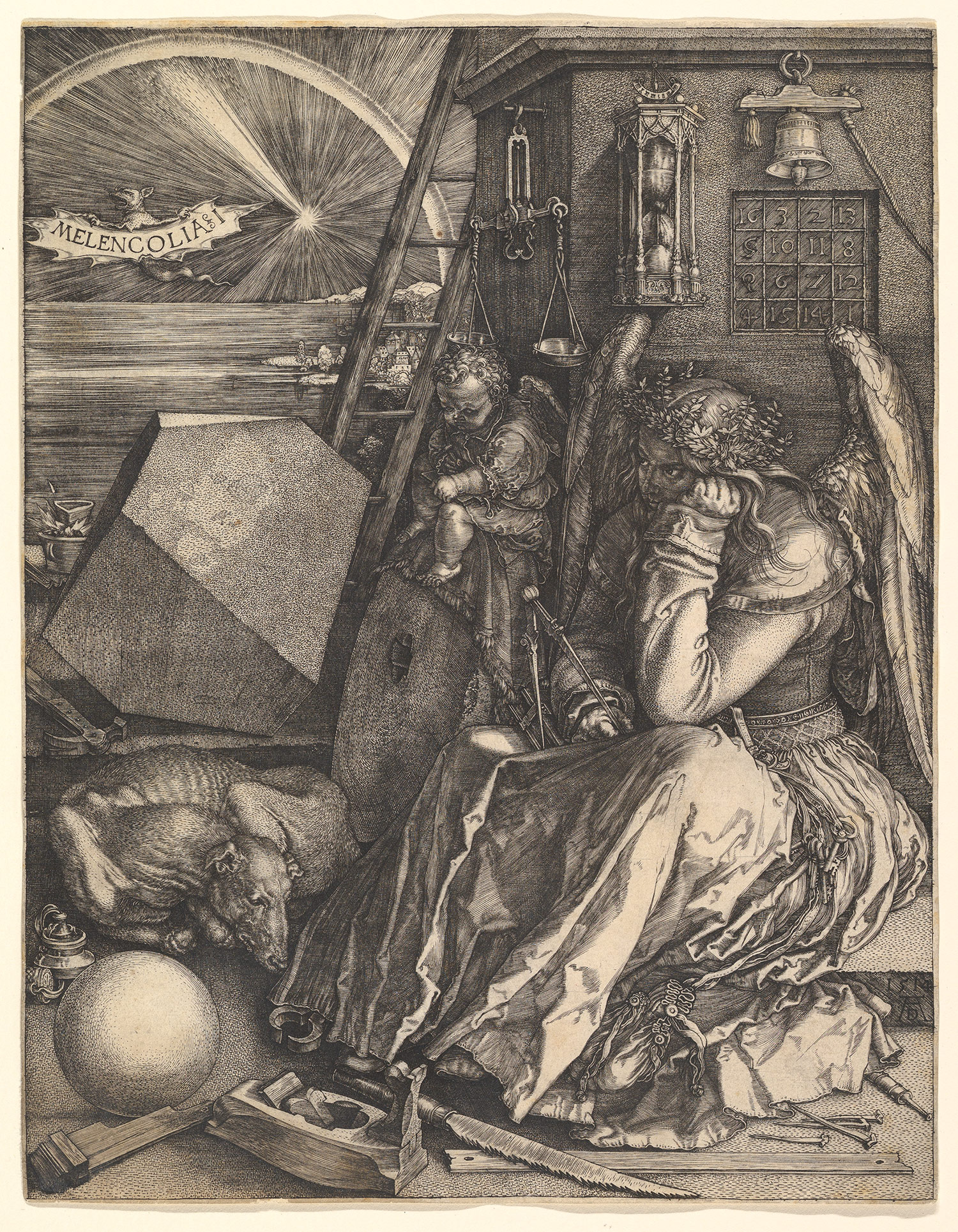 In my previous article There's No Melancholy in Melencolia – One Secret of Greatest Art Fraud in Art History   http://wp.me/p2M3K7-hG  I reported to you that there is nothing allegorical about anything that is in Albrecht Dürer's most famous print or any of his art at all.  And that Albrecht Dürer was using steganography, known in this case as the Dürer Cipher, a secret messaging system where others do not even know messages are being passed to a target audience.
You also learned about how incredibly skilled Dürer was in hiding an inscription in plain sight that everyone thought was a title for over 500 years.
You will see in the next article after this one how the belt in Melencolia is also encoded and how much we know about what that says and how important it is to understanding what Melencolia is really about.
THE MOST IMPORTANT SYMBOL OF ALL
But today you will learn about and SEE the absolutely most important symbol in Melencolia, the biggest secret the artists Dürer hid in this print, the one that was most important to both Albrecht and Margret.
And that symbol is this:
I have checked my own copy of Melencolia I, because the print is not that large, roughly 9 ½ inches x 7 1/2 inches, to determine whether this symbol is visible to the naked eye.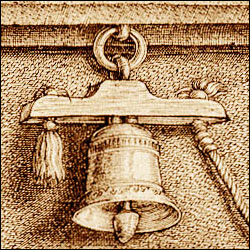 AND IT IS if you know to look for it.  The Dürers used the bell clapper above the Magic Square as a directional symbol, basically as an arrow, for people to find it, it points directly down in a straight line to the symbol below the belt code.  That's a really smart move on their part.
Let's look at the elements that make up this symbol
Albrecht wanted to be known as a great mathematician so over the rest of the symbol they have an element that means "Pi."  The mathematical definition of Pi is that it is a transcendental number, which implies, among other things, that no finite sequence of algebraic operations on integers (powers, roots, sums, etc.) can be equal to its value. In other words, there is nothing equal to it and this whole symbol indicates that there is nothing equal in importance to what this symbol represents.  The bar over the symbol is a different form of Pi than we are used to seeing in the modern age.
Next we look at what's under the Pi bar symbol.  At first glance  it appears to be an "F' but it is not, it is the same symbol used in the Margret Dürer self portrait painting inscription in the neckline
It's actually a goldsmith's tool as it is used in the Margret self portrait.
Then we get to the crossbar that is dissecting the goldsmith tool, which is another example of how the Dürers were indicating something being "equal."  They did this in the Melencolia inscription in the flourish that makes up part of the inscription-there's a crossbar dissecting the box of the flourish
The entire symbol represents a person who is the most important person to the two Dürers in the world.
THE MOST IMPORTANT PERSON IN ALL THE WORLD
And this symbol is repeated in Dürer's last painting of St. Jerome done in 1521 for the Faktor of Portugal.
It is exactly what St. Jerome is pointing to, exactly, but the proof of that will be shown in another article, since there are two other important symbols around St. Jerome's hand that tell us the entire meaning of what Albrecht Dürer is so importantly saying to us in this painting.
THE "WRONG" ST. JEROME PAINTING
And notice also, that nobody has ever realized this St. Jerome painting is totally wrong.  St. Jerome is known for translating BIBLES and is responsible for translating the Latin Vulgate bible used throughout all of medieval and Renaissance Europe. He is always depicted either in the wilderness or in his study but he's always depicted as reading or translating BIBLES. In THIS painting St. Jerome does NOT have a bible in front of him, he has a very prominent MATH book in front of him instead.
Notice we can easily see the math symbol for PHI prominently shown and we can easily see that the book is a book totally about math.
Why would Albrecht Dürer do that?