Copyright Feb 19, 2014 by Dr. Elizabeth Garner and Joe Kiernan
In the previous article on red hair we have described that the genes for red hair in Jews are the same genes for red hair in Christians in all of Europe, both eastern and western, except for perhaps the British Isles.
There is a very strange pattern of a high incidence of red hair among the European royals through out all of Europe.  We will not get into the red hair of Henry VIII or Elizabeth I, for that information is well known.  Lesser known is all the red hair among royals of the Hapsburg line and all over Eastern Europe, especially from the Kingdom of Hungary and in the great Italian families, such as the Sforzas and the Medicis, which will be the focus here.  There was a tremendous amount of interchange between the Hapsburg line, the Kingdom of Hungary, which encompassed almost all of Eastern Europe ( although Bohemia and Slovakia and Poland were being bantyed back and forth between Kings and Dukes and the house of Valois, the Dauphiny).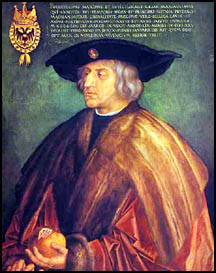 This painting of Emperor Maximilian was done by Albrecht Dürer in 1519 after Maximillian had died.  Notice he has grey hair.
Previous to that, Albrecht had painted this portrait of Maximillian the year before at the diet of Augsburg and Maximillian is shown shown with dark hair.  The inscription on this painting was not added until after Maximillian's death.
SUDDENLY THEY ARE REDHEADS
But look at this painting done by Bernhard Strigel of Maximillian's family done in 1515.  The whole family has RED HAIR! who was covering something up?
This painting was done in 1515 on linden wood and depicts Maximillian with his beloved first wife, Mary of Burgundy, leaving out their daughter Mary of Austria, who was sent to the court of the Dauphin of France, Charles the VIII, at age 3 and married Charles VIII, later repudiated by him.  Except for the headdress, which covers Mary of Burgundy's head, but is still red, everyone in this picture is a redhead.
Over the picture of Maximillian are the words : CLEOPHAS . FRATER . CARNALIS .
Over Mary of  Burgundy are the words MARIA CLEOPHÆ SOROR / VIRG . MAR PVTATIVA MA= / TER TERA . D . N
In between these two are their son, Philipp the Beautiful, who wed Juana of Castile (Mad Joan) and are these words I / JACOBVS: MINOR EPVS: / HIEROSOLIMITANVS, which really seems to be a Jewish name of Jacobus
In front of Maximillian is his uncle Ferdinand I, son of Philip of Hapsburg and Austrian.
In the middle is Maximillian's grandson of Mary of Austria, Charles V, who succeeded Maximillian as Emperor with these words Karl: II / SIMON ZELOTES CONSO= / which also seems to be a Jewish name of Simon.
On the right is Maximillian's grand nephew Ludwig I of Bohemia with these words BRINVS . DNI . NRI .
This painting was owned in 1520 by the Emperor's Historian, Johannes Cuspinian (with his wife), painted by Lucas Cranach, one of Duerer's competitor's in 1502
and painted also by Strigel (see below).  Cuspinian and family has red hair and what appears more Jewish names.
THE HUNGARIAN, BOHEMIAN POLISH, MOLDAVIAN, SLOVAKIAN, WALLACHIAN, TRANSYLVANIAN, LUTHIANIAIN, ESTONIAN HAPSBURG AND OTHER DYNASTIES ALL HAVE RED HEADED FAMILIES!
Which  implies that Eastern European royals absorbed the Jewish Khazar royals within their dynasties and that Jewish genes flow through almost all of Europe's royalty.
So let's start taking a look at the incredibly confusing and intertwined dynastic families from the Hungarian Empire from which Emperor Maximillian was descended and the fact they they are almost all redheads except for the first one Casimir III.  It should not be surprising that we will find intermarriages with the English and British Isles representatives, the Iberians (Spanish and Portuguese), and the French all wrapped up in this stew of royals.  The weird thing is how many redheads are represented, almost impossibly not from descent of the Khazar kingdom that was absorbed into all these areas.
CASIMIR III
We'll start with Casimir III the Great of Poland, who was not a redhead, but who specifically was a protector of the Jews.  Here's his portrait (someone claims it looks like the model for the Burger King .)
He in fact waged many victorious wars and was readying for others just before he died. He built extensively during his reign, reformed the Polish army and the Polish civil and criminal law.  On 11 March 1347, he introduced salutary legal reforms to the judicial system of his kingdom. He sanctioned a code of laws for Great and Lesser Poland, which gained for him the title of "the Polish Justinian" and founded the University of Cracaw, the oldest Polish University.
CONSESSION TO THE NOBILITY
Casimir was forced to grant important privileges to the nobility, which made them finally clearly dominant over burgher merchant townsfolk. In 1335, in the Treaty of Trenschin, Casimir relinquished "in perpetuity" his claims to Silesia.
In 1355 in Buda, Casimir designated Louis I of Hungary as his successor. In exchange, the szlachta's tax burden was reduced and they would no longer be required to pay for military expeditions expenses outside Poland. Those important concessions would eventually lead to the ultimately crippling rise of the unique nobles democracy rise in the Polish-Lithuanina commonwealth.
PROTECTION OF JEWS
King Casimir was favorably disposed toward Jews. On 9 October 1334, he confirmed the privileges granted to Jewish Poles in 1264. Under penalty of death, he prohibited the kidnapping of Jewish children for the purpose of enforced Christian baptism. He inflicted heavy punishment for the desecration of Jewish cemeteries. Although Jews had lived in Poland since before the reign of King Casimir, he allowed them to settle in Poland in great numbers and protected them as people of the king.

MARRIAGES
Casimir III married four times.
On 30 April or 16 October 1325, Casimir married 
Aldona of Lithuania
. She was a daughter of 
Gediminas of Lithuania
 and 
Jewna
. They had two children:
Aldona died on 26 May 1339. Casimir remained a widower for two years.
Adelheid of Hesse
On 29 September 1341, Casimir married his second wife, Adelheide of Hess. She was a daughter of Henry II, landgrave of Hesse, and Elizabeth of Meissen. They had no children. Casimir started living separately from Adelaide soon thereafter. Their loveless marriage lasted until 1356.
THE MISTRESS-CHRISTINA ROKICZANA
Casimir effectively divorced Adelaide and married his mistress Christina Rokiczana, the widow of Miklusz Rokiczani, a wealthy merchant. Her own origins are unknown. Following the death of her first husband she had entered the court of Bohemia in Prague as a lady in waiting. Casimir brought her with him from Prague and convinced the abbot of the Bendedictine abbey of  Tyniec to marry them. The marriage was held in a secret ceremony but soon became known. Queen Adelaide renounced it as bigamous and returned to Hesse without permission. Casimir continued living with Christine despite complaints by Pope Innocent VI on behalf of Queen Adelaide. The marriage lasted until 1363–64 when Casimir again declared himself divorced. They had no children.
Hedwig of Żagań
In  1365, Casimir married his fourth wife Hedwig of Żagań who had been married twice. She was a daughter of Henry V of Iron, Duke of Żagań and Anna of Mazovia. They had three children:
With Adelaide still alive and Christine possibly surviving, the marriage to Hedwig was also considered bigamous. The legitimacy of the three last daughters was disputed. Casimir managed to have Anne and Cunigunde legitimated by Pope urban V on 5 December 1369. Hedwig the younger was legitimated by Pope Gregory X on 11 October 1371.
BUT CASIMIR WASN'T FINISHED FOOLING AROUND
Casimir had three illegitimate sons by his mistress Cudka, wife of a castellan.
Niemierz (last mentioned alive in 1386); oldest son; survived his father, inherited lands around Stopnica
Pelka (1342–1365); married and had two sons; predeceased his father
Jan (d. 28 October 1383); youngest son; survived his father, inherited lands around Stopnica
Bottom line: everyone died out from these many unions but red hair was rampant through this line. LOUIS I OF HUNGARY, the son of Casimir's sister, so the red hair remains a recessive gene,  became King of Hungary, Poland and Croatia after Casimir III.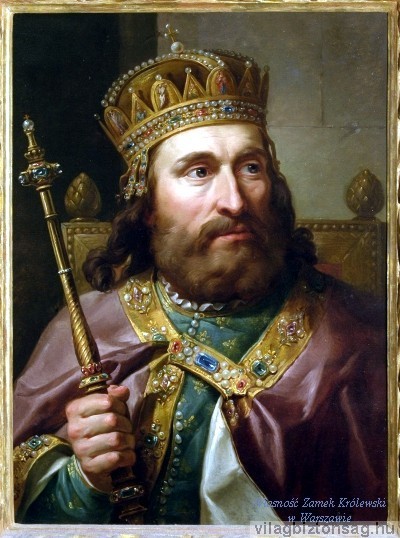 THE FRENCH CONNECTION
Now everything gets really sticky because the French marriages had started  occurring. LOUIS  I IS THE MOST SENIOR MEMBER OF THE FRENCH HOUSE OF ANJOU, which means the red hair genes are also in the French line.
He was one of the most active and accomplished monarchs of the late Middle Ages, extending territorial control within the Holy Crown of Hungary. The rulers of Serbia, Wallachia, Moldavia, and Bulgaria became his vassals and he controlled Dalmatia and Bosnia.
Although he waged a host of campaigns outside Hungary, Louis did keep peace within Hungary itself. In an era when Spain was harassed by the Arabs, France targeted by the English, Germany tormented by the rivalries of its princes, Italy the scene of bloody conflicts among its city-states, Poland and Russia the objects of Lithuanian and Tartar attacks, and Byzantium and the Balkan states subject to Turkish raids and expansion, Hungary flourished as an island of peace with redheads all over the place.
SIGISMUND OF HUNGARY, HOLY ROMAN EMPEROR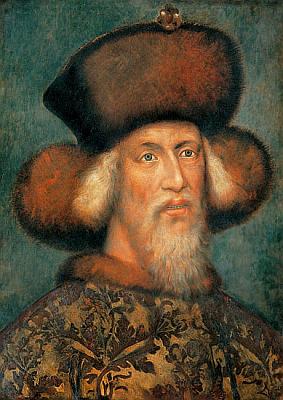 Born in Nuremberg, Sigismund was the son of the Holy Roman Emperor Charles, and of his fourth wife, Elizabeth of Pomerania, the granddaughter of Komg Casimir III of Poland, and the great-granddaughter of the Grand Duke of Lithuania, Gediminas. He was named after Saint Sigismund of Burgundy the favourite saint of Sigismund's father. From Sigismund's childhood he was nicknamed the "ginger fox" (liška ryšavá) in Lands of the Bohemian Crown, on account of his red hair colour.
WIFE BARBARA OF CELJE
Barbara lived to see the birth of three grandchildren, Anne, Elizabeth and Ladislas . She is one of the ancestors of modern European royal families, so all current royals have the recessive red hair gene which is of Jewish origin.
Elizabeth of Luxembourg (7 October 1409 – 19 December 1442) was Queen consort of Germany, Hungary and Bohemia.
The only child of the Holy Roman Emperor Sigismund, King of Hungary and Bohemia, Elizabeth was expected to ascend his thrones along with her husband, Albert of Austria. Her rights were ignored by the nobility when Sigismund died in 1437 and only her husband was accepted as monarch, with Elizabeth as mere consort.
Albert died in 1439, leaving Elizabeth a pregnant dowager with two daughters, Anne and Elizabeth. Bohemian nobility proclaimed an interregnum, while King Vladlisas III of Poland was crowned new king of Hungary in May 1440, three months after Queen Elizabeth delivered a son, Ladislaus the Posthumous.
LADISLAS THE POSTHUMOUS
She was determined to contend for her patrimony on her son's behalf, which led to a civil war between hers and Vladislaus' supporters. The conflict ended with the queen's death at the age of 33. Vladislaus himself died in battle in 1444, opening up the path for Elizabeth's son to be recognized as King of Hungary.
He was called Posthumous four months after his father's death. He succeeded immediately as Duke of Austria and head of the House of Hapsburg, and he also became nominal King of Bohemia. But his second cousin Fredrick V, ruler of Inner Austria, was chosen to succeed Albert II as King of the Romans.
Elisabeth arranged for Ladislaus to be crowned  on 15 May 1440.
For safety's sake, she placed Ladislaus under the guardianship of his Habsburg relative Frederick V, who proceeded to hold him as a virtual prisoner  and rule Austria himself. On the death of Vladislaus I in 1444, the Hungarian estates, despite considerable opposition, elected Ladislaus Posthumus as their king and sent a deputation to Vienna to induce Frederick to surrender the child and the Holy Crown, which he refused to do.
AND IT GETS COMPLICATED
In the meantime, John Hyuandi, a noble, acted as regent for Ladislaus in Hungary, while George Podebrady, another noble, performed the same office in Bohemia.
From 1450 the pressure of the Austrian estates to free Ladislaus grew. In 1452, they freed Ladislaus by force. Ulrich of Celje, a Slovenian magnate and heir to Bosnia, the cousin of Ladislaus's mother Barbara, prevailed against Eyczing and became the new guardian of the child, effectively ruling in his stead.
On 28 October 1453, at the age of thirteen, Ladislaus Postumus was finally crowned King of Bohemia, after which he lived mainly in Prague or Vienna. I don't blame him for getting away from everyone who was holding him hostage.
Ulrich of Celje and Ladislaus remained indifferent to the threat posed in Hungary by the Turks, and Ulrich became increasingly hostile towards John Hyundai, who was bearing the main burden of the battles against the Ottomans. On the death of Hunyadi, Ladislaus made Ulrich governor of Hungary in October 1456. After the Siege of Belgrade, Ulrich was murdered by Ladislaus Hyundai, John's brother. Ladislaus Posthumous had the young Hunyadi beheaded on 16 March 1457. This raised such a storm in Hungary that the king had to flee to Prague, where he prepared to marry.
He died suddenly in Prague on 23 November 1457 while preparing for his marriage to Magdelena of Valois, daughter of Charles VII of France. It was rumored at the time that his political opponents in Bohemia had poisoned him; but in the 20th century it was shown that Ladislaus died of leukemia, not a recognized disease in that period.
Ladislaus's cousins Frederick V and Albert VI succeeded him in Austria; Hungary elected Matthias Corvinus, the brother of Ladislaus Hunyadi, as king; and Bohemia elected George of Poděbrady, the only Hussite  ruler of that kingdom.
MATTHIAS CORVINUS
Matthias was 15 when he was elected King of Hungary. This was the first time in the medieval Hungarian kingdom that a member of the nobility, without dynastic ancestry and relationship, mounted the royal throne. All was to change.Such an election upset the usual course of dynastic succession in the age. In the Bohemian and Hungarian states they heralded a new judiciary era in Europe, characterized by the absolute supremacy of the Parliament.
During his reign, Matthias reduced the power of the feudal lords, and ruled instead with a cadre of talented and highly educated individuals, chosen for their abilities rather than their social status. That deed made many aristocrats hostile towards Matthias' new type of central government.

At this time the realm was environed by perils. The Otomans and the Venetians  threatened it from the south, the Holy Roman Emperor Frederick III from the west, and Casimir IV of Poland from the north, both Frederick and Casimir claiming the throne.
The Czech mercenaries under Jiska held the northern counties and from thence plundered those in the centre. Meanwhile Matthias's friends had only pacified the hostile dignitaries by engaging to marry the daughter of the palatine Garai to their nominee, whereas Matthias refused to marry into the family of one of his brother's murderers, and on 9 February confirmed his previous nuptial contract with the daughter of Poděbrady, who shortly afterwards was elected King of Bohemia (2 March 1458), having another noble ascend a throne.
Throughout 1458 the struggle between the young king and the magnates, reinforced by Matthias's own uncle and guardian Szilágyi, was acute. But Matthias, who began by deposing Garai and dismissing Szilágyi, and then proceeded to levy a tax, without the consent of the Diet, in order to hire mercenaries, easily prevailed.  In the following year there was a fresh rebellion, when the emperor Frederick was actually crowned king by the malcontents at Vienna-Neustadt (4 March 1459); Matthias however drove him out, and Pope Pius II intervened so as to leave Matthias free to engage in a projected crusade against the Ottomans, which subsequent political complications, however, rendered impossible. On 1 May 1461, the marriage between Matthias and Poděbrady's daughter took place. We don't have a picture of her.
From 1461 to 1465 the career of Matthias was a perpetual struggle punctuated by truces. Having come to an understanding with his father-in-law Poděbrady, he was able to turn his arms against the Emperor Frederick. In April 1462 the latter restored the holy crown for 60,000 ducats and was allowed to retain certain Hungarian counties with the title of king; in return for which concessions, extorted from Matthias by the necessity of coping with a simultaneous rebellion of the Magyar nobles in league with Poděbrady's son Victorinus, the Emperor recognized Matthias as the actual sovereign of Hungary. Only now was Matthias able to turn against the Ottomans, who were again threatening the southern provinces. He defeated the Ottoman general Ali Pasha, and then penetrated into Bosnia. On returning home he was crowned with the Holy Crown on 29 March 1464. Twenty-one days after, on 8 March, the 15-year-old Queen Catherine died in childbirth. The child, a son, was stillborn.
Matthias gained independence of and power over the barons by dividing them, and by raising a large royal army, fekete sereg (the King's Black Army of mercenaries, which is what Albrecht Duerer the Elder references in his marriage coat of arms on the back of the 1490 portrait of him), whose main force included the remnants of the Hussites from Bohemia. At this time Hungary reached its greatest territorial extent of the epoch (present-day southeastern Germany to the west, which would have included Bavaria and Nuremberg, Dalmatia to the south, the Eastern Carpathians to the east, and southwestern Poland to the north.
AND NOW IT GETS INCREDIBLY COMPLICATED
Soon after his coronation, Matthias turned his attention upon Bohemia, where George of Poděbrady had gained the throne. The election took place on a field, in the presence of about 10,000 electors. In order to obtain as many votes as necessary he made various businesses with the key-persons, but he did not expect this many electors, so he needed more money. Two of the most significant persons were Gašpar Ernušt Hampo de Csaktornya, who was a rich wholesaler of copper and who lent money to him to be able to make the businesses there at the election before the coronation, and Simon Keglević, became the commander of Matthias Corvinus. In 1465 Pope Paul II excommunicated  Podebrady and ordered all the neighbouring princes to depose him. In 1467, Matthias and his Black Army fought against Moldavia and lost the Battle of Baia. On 31 May 1468, Matthias invaded Bohemia; however, as early as 27 February 1469, he anticipated an alliance between George and Frederick by himself concluding an armistice with the former.
So he marries Beatrice of Naples (no picture available), also known as Beatrice of Aragon (Italian and French!)  on December 15, 1476.
On 3 May the Bohemian Catholics elected Matthias King of Bohemia, but this was contrary to the wishes of both Pope and Emperor, who preferred to partition Bohemia. George however anticipated all his enemies by suddenly excluding his own son from the throne in favour of Ladislaus, the eldest son of Casimir IV. The sudden death of Poděbrady in March 1471 led to fresh complications.
Everyone kept fighting until Matthais made peace at Breslau in 1475 and then again in July 1479.
During the interval between these peaces, Matthias, in self-defence, again made war on the Emperor, reducing Frederick to such extremities that he was glad to accept peace on any terms. By the final arrangement made between the contending princes, Matthias recognized Ladislaus as King of Bohemia proper in return for the surrender of Moravia, Silesia and Upper  and Lower Lusatia, hitherto component parts of the Bohemian monarchy, supposed to be receiving 400,000 florins for these territories from the Emperor.
The emperor's failure to follow through on these promises induced Matthias to declare war against him for the third time in 1481. The Hungarian king conquered all of the fortresses in Frederick's hereditary domains. Finally, on 1 June 1485, at the head of 8,000 veterans, he made his triumphal entry into Vienna, which he henceforth made his capital.
Styria, Carinthia and Carnola were next subdued; Trieste was only saved by the intervention of the Venetians. Matthias consolidated his position by alliances with the Dukes of Saxony and Bavaria, with the Swiss Confederation and the Archbishop of Salzburg, establishing henceforth the greatest potentate in central Europe.
LOUIS II OF HUNGARY
Louis II eventually succeeded Corvinus when Corvinus died in 1490. He married Mary, the sister of Ferdinand. He was King of Hungary, Croatia, Bohemia from 1516 to 1526 when he was killed at the battle of the Mohacs fighting the Ottomans in 1526.
On 29 August 1526, Suleiman and his army broke through Hungary's southern defences. Louis and his entire government marched out with a small army of 20,000 men. The Battle of Mohács was over in less than two hours, with the entire Hungarian army virtually annihilated. Louis tried to flee the site of the battle but slipped from his frightened horse and drowned.
This is when the Ottomans overran Eastern Europe, and Transylvania and Wallachia fell.
Hungary was divided into three parts: Ottoman Hungary – a part of the Ottoman Empire,  Royal Hungary – ruled by Mary's brother Ferdinand, and Eastern Hungarian Kingdom – ruled by John Zápolya. Ferdinand was elected King of Bohemia. Mary took a vow to never remarry and always wore the heart-shaped medallion worn by her husband in the fatal Battle of Mohács
You will now see more examples of redheaded royals in Eastern Europe with probable Jewish blood coursing through their veins.
OTHER ROYAL REDHEADS
QUEEN ANNE OF HUNGARY AND BOHEMIA
ELZBIETA HABSBURZANDKA, QUEEN OF POLAND. GRAND DUCHESS OF LITHUANIA
ANNE OF AUSTRIAN, ARCHDUCHESS OF BAVARIA
ARCHDUCHESS BARBARA OF AUSTRIA
QUEEN MARY, WIFE OF LOUIS II, QUEEN OF HUNGARY AND BOHEMIA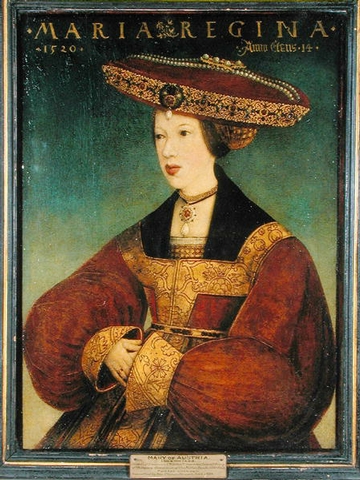 CATHERINE OF AUSTRIA, QUEEN CONSORT OF POLAND
ELEANOR OF AUSTRIA, DUCHESS OF MANTUA AND MONTFERRAT
JOHN CICERO, ELECTOR OF BRANDENBURG
QUEEN MARY OF HUNGARY
MARGARET OF ANJOU
RUPERT III OF GERMANY
BLANCHE OF ENGLAND, WIFE OF LOUIS III, ELECTOR OF THE PALANTINE
WENCESLAUS, KING OF BOHEMIA


BLANCHE OF VALOIS, WIFE OF KARL IV(CHARLES IV)
We finalize the redhead story in PART III