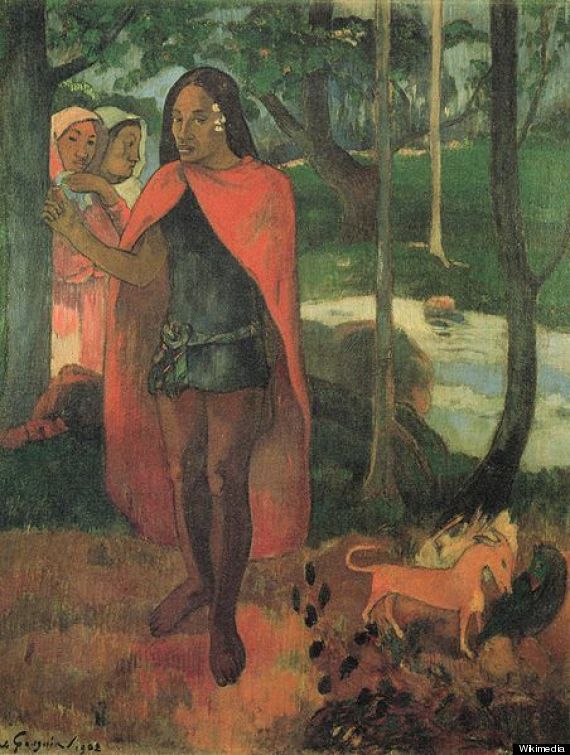 Paul Gauguin, "The Sorcerer of Hiva Oa," 1902, oil on canvas, 92 × 73 cm (36.2 × 28.7 in), Musée d'Art moderne
A painting by French Post-Impressionist artist Paul Gauguin is at the center of an investment scandal, perpetrated by former NFL Player Russell Allen Erxleben. The retired kicker was arrested  after he allegedly amassed over $2 million through a complicated Ponzi plot that included an opportunity for investors to buy into the purchase of Gauguin's "The Sorcerer of Hiva Oa," which Erxleben claimed was worth $58 million.
The fine arts scam began in 2009. But, according to the indictment, Erxleben wasn't actually a part of The Gauguin Partners or associated with them in any way; instead, he allegedly used the company's name to solicit investors for money to authenticate the painting.
Confusing? There's more: the painting in question  is currently in the collection of  the Museum of Modern Art in Belgium since 1902. The Gauguin painting is "inalienable" public property. Essentially, there's no way they would be planning to sell it, for any price.
Erxleben, who was sentenced to 7 years in prison for previous fraudfaces up to 110 years in prison if he is found guilty for his ponzi plot, charged with five counts of wire fraud, one count of securities fraud and two counts of money-laundering.
http://www.huffingtonpost.com/2013/02/27/russell-erxleben-former-nfl-player-gauguin-partners-painting-ponzi-scheme-arrest_n_2774678.html