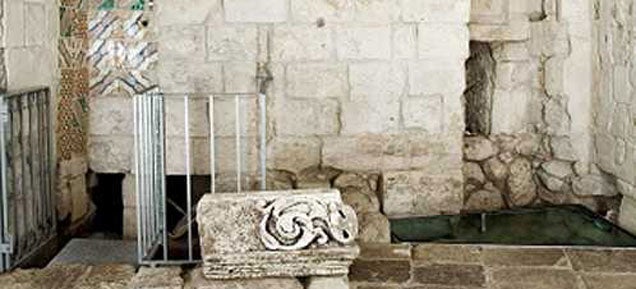 All Luciano Faggiano wanted when he purchased the seemingly unremarkable building at 56 Via Ascanio Grandi was to open a trattoria. The only problem was the toilet.
Sewage kept backing up. So Mr. Faggiano enlisted his two older sons to help him dig a trench and investigate. He predicted the job would take about a week.
YEARS OF WORK
"We found underground corridors and other rooms, so we kept digging," said Mr. Faggiano, 60.
His search for a sewage pipe, which began in 2000, became one family's tale of obsession and discovery. He found a subterranean world tracing back before the birth of Jesus: a Messapian tomb, a Roman granary, a Franciscan chapel and even etchings from the Knights Templar. His trattoria instead became a museum, where relics still turn up today.
Situated in the heel of the Italian boot, Lecce was once a critical crossroads in the Mediterranean, coveted by invaders from Greeks to Romans to Ottomans to Normans to Lombards. For centuries, a marble column bearing a statue of Lecce's patron saint, Orontius, dominated the city's central piazza — until historians, in 1901, discovered a Roman amphitheater below, leading to the relocation of the column so that the amphitheater could be excavated.
"The very first layers of Lecce date to the time of Homer, or at least according to legend," said Mario De Marco, a local historian and author, noting that invaders were enticed by the city's strategic location and the prospects for looting. "Each one of these populations came and left a trace."
"Whenever you dig a hole," Mr. Martini said, "centuries of history come out."
Ask the Faggiano family. Mr. Faggiano planned to run the trattoria on the ground floor and live upstairs with his wife and youngest son. Before they started digging, Mr. Faggiano's oldest son, Marco, was studying film in Rome. His second son, Andrea, had left home to attend college. The building was seemingly modernized, with clean white walls and a new heating system.
"I said, 'Come, I need your help, and it will only be a week,' " Mr. Faggiano recalled.
But one week quickly passed, as father and sons discovered a false floor that led down to another floor of medieval stone, which led to a tomb of the Messapians, who lived in the region centuries before the birth of Jesus. Soon, the family discovered a chamber used to store grain by the ancient Romans and the basement of a Franciscan convent where nuns had once prepared bodies of the dead.
After watching the Faggiano men haul away debris in the back seat of the family car, neighbors became suspicious and notified the authorities, warning Mr. Faggiano against operating and unapproved archaeological worksite; Mr. Faggiano responded he was just looking for a sewage pipe.
A year passed. Finally, Mr. Faggiano was allowed to resume his pursuit of the sewage pipe on condition that heritage officials observed the work. An underground treasure house emerged, as the family uncovered ancient vases, Roman devotional bottles, an ancient ring with Christian symbols, medieval artifacts, hidden frescoes and more.
Years passed. His sons managed to escape, with Andrea moving to London. City archaeologists pushed Mr. Faggiano to keep going. His own architect advised that digging deeper would help clear out sludge below the planned bathroom, should he still hope to open his trattoria. He admits he also became obsessed.
"At one point, I couldn't take it anymore," he recalled. "I bought cinder blocks and was going to cover it up and pretend it had never happened.
"I don't wish it on anyone."
Today, the building is Museum Faggiano, an independent archaeological museum authorized by the Lecce government. Spiral metal stairwells allow visitors to descend through the underground chambers, while sections of glass flooring underscore the building's historical layers.
His docent, Rosa Anna Romano, is the widow of an amateur speleologist who helped discover the Grotto of Cervi, a cave on the coastline near Lecce that is decorated in Neolithic pictographs. While taking an outdoor bathroom break, the husband had noticed holies in the ground that led to the underground grotto. "We were brought together by sewage systems."
Mr. Faggiano is now satisfied with his museum, but he has not forgotten about the trattoria. A few years into his excavation, he finally found his sewage pipe. It was, indeed, broken. He has since bought another building and is again planning for a trattoria, assuming it does not need any renovations. He has no plans to lift a shovel.
"I still want it," he said of the trattoria. "I'm very stubborn."