CRACKING THE MARGRET CODE
This supposedly 1497 painting of Margret Dürerin was for a very long time considered to be Katarina Fürlegerin, because there is a coat of arms that was painted on the canvass.  However, in our modern age of technology it has been determined that the coat of arms were added after the original painting was done by Dürer and the Nuremberg Bell Ringing Death Registries support the fact that this painting could not be of Katarina Fürlegerin.
This painting has suffered much damage to the canvass, which has had numerous restorations to it also, which is why no one has been able to crack the neckline code in the bodice of her dress without the Dürer Cipher.  What the actual clues are in the bodice has been very hard to see.
THE FIRST WEIRD ANOMALY
When you look at the painting, you can see that there is a scroll in the upper right hand corner where Albrecht left an inscription.  The scroll has darkened dramatically to where it's almost impossible to see the inscription or it's been destroyed but we do know what was originally there.
The inscription says "Also pin ich gestalt In achcehe[n] jor altt." Which translates to "I made this when I was 18 years old."  Albrecht Dürer was born May 21, 1471 and would have turned 19 years of age on May 21, 1490. If this painting were made in 1497, he would have been 26 years of age.
Margret was born Jan 20, 1476 and if this painting was made in 1497, then she would have been 21 years of age. She would have been 18 in 1494.
The Margret painting has been considered to have been painted in 1497 because the supposed matching portrait of Girl With Hair Down shows a date above Dürer's monogram as 1497.  But the way that date is made puts that date of 1497 on Girl with Hair Down in question.  What Dürer used for the 7 at the end could easily be a 2, and everything about the date on that painting is suspicious. With the inscription, it's doubtful that Margret's picture WAS done in 1497 and thus it's doubtful that these two pictures were done at the same time or are a diptych.  It does remain that this could be a Dürer sister.
WHEN WAS THIS PAINTING MADE AND WHY IS THAT IMPORTANT?
Since we know we have two exceptionally talented artists in this family, Albrecht and Margret, it must be considered that Margret COULD have painted this painting as a self portrait instead of this being painted by Albrecht.
But let's look at what was happening with Albrecht that would make the inscription true as if he was the painter.
We know that Albrecht left for his journeymanship right after Easter in 1490, which obviously is before May when he would have turned 19.  We also know that he did the paintings of his mother and father, with their marriage coat of arms on the back of the father's painting in 1490, because they are dated, so he had to have done these paintings before Easter 1490.
Thus, to be 18 and to have painted the picture of Margret at that age, he would also have had to have done it during the same time period as he painted his mother and father.
AND THAT WOULD MEAN it is the very FIRST EVIDENCE OF Albrecht encoding with the Dürer Cipher, previously thought not to have occurred first until 1492.
SELF PORTRAIT OF MARGRET DONE BY MARGRET?
But the deciphered message of the code in Margret's neckline tells us that there is another scenario we must consider, which is that Margret herself could have painted this portrait.  For her to be 18, she would have had to make this painting in 1494, which is very possible.  She would have had to have made it prior to the July 7th wedding of Albrecht to Agnes Frey, since Dürer was in Basle in 1494, recalled to Nuremberg for the wedding.
The trip from Basle that Albrecht would have to make probably would have taken at least a week or two to complete because of all the travel paper preparations required, so more than likely Albrecht doesn't arrive in Nuremberg until some time in early June 1494 and then wedding preparations would have been in full swing. It's very doubtful that Albrecht would be painting right before his marriage. But Margret would have had six months to complete this painting before this marriage.
WHO IS USING THE DÜRER CIPHER FIRST?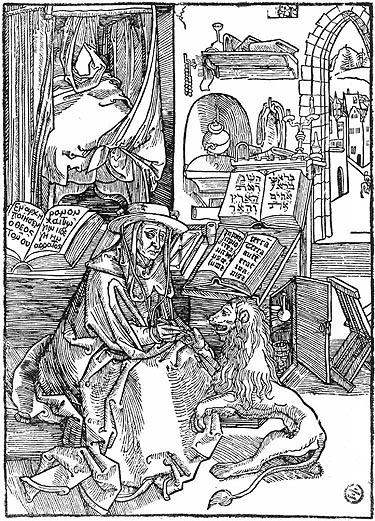 It would make sense that this painting could be a self-portrait done by Margret in 1494 because of the fact that the first provable signs of encoding by Albrecht is in the 1492 St. Jerome in the Cell.  Thus, the encoding would have already been started by Albrecht, and Margret could have thus been advised by Albrecht, probably through correspondence with her brother, how to employ the Dürer Cipher and not get caught.
PLAGUE!
And then plague hit Nuremberg very hard, starting in August 1494, and everyone and anyone who could flee the city did.  We have discussed in a previous article that this was the cause of Dürer fleeing Nuremberg towards Venice and that he went first to his wife's cousin's estate in Switzerland (as known through his artwork).  We have also indicated that it would have been strange for the Albrecht the Elder Dürer Family to have remained behind in Nuremberg during this plague outbreak since there were almost 10,000 victims that died out of a 20,000 population within the City walls, and 50,000 within the 25 mile territory that Nuremberg controlled. It was a very bad plague outbreak.
The Nuremberg death registries also corroborate that the Dürer family left Nuremberg, since many of the Dürer family members survive this plague wave, so the highest probability is the whole wealthy Dürer the Elder family fled Nuremberg  at least to Switzerland in August 1494.  Whether any Dürer paintings would have been brought along is a question to ponder, as much looting would have occurred with such high death rates and plague outbreaks of this severity. Where did these paintings get stored while the plague was occurring or did the Dürer's take the paintings with them?
WENCEL HOLLAR-THE PURPOSEFUL COMPLICATION
Decoding this message in the neckline was seriously compromised because of what appears to be a conspiracy purposefully implemented to confuse viewers from the 1600's. Lord Arundel of England was one of the biggest Dürer collectors in the 1600's and he commissioned Wencel Hollar to work for him.
Václav Hollar 13 July 1607 – 25 March 1677), was a Bohemian etcher, known as Wenzel Hollar. He was born in Prague, and died in London.
After his family was ruined by the Sack of Prague in the Thirty Year's War, the young Hollar, who had been destined for the law, determined to become an artist. The earliest of his works that have come down to us are dated 1625 and 1626; they are small plates, and one of them is a copy of a "Virgin and Child" by Durer, whose influence upon Hollar's work was always great. In 1627 he moved to the region around Stuttgart; before moving to Strassburg, and then, in 1633, to Cologne.
It was in 1636 that he attracted the notice of the famous nobleman and art collector Thomas Howard, 21st Earl of Arundel, then on an embassy to the imperial court. Employed as a draftsman he travelled with Arundel to Vienna and Prague. In 1637 he returned with him to England where he remained in the Earl's household for many years.
Hollar produced a variety of works; his plates number some 2740, and include views, portraits, ships, religious subjects, heraldic subjects, landscapes, and still life in many different forms. His architectural drawings, such as those of Antwerp and Strassburg cathedrals, and his views of towns, are to scale, but are intended as pictures as well. He reproduced decorative works of other artists, as in the famous chalice after Mantegna's drawing.
Almost complete collections of Hollar's work are kept in the British Museum, the print room at Windsor Castle and the National Gallery in Prague. Hollar's oeuvre was first catalogued in 1745 (2nd ed. 1759) by Geroge Vertue.

Wencel was commissioned by Lord Arundel to copy Dürer paintings and Hollar dutifully complied in copying the painting known as Girl with Hair Up, which is Margret's portrait. http://upload.wikimedia.org/wikipedia/commons/4/4e/Wenceslas_Hollar_-_Woman_with_coiled_hair,_after_D%C3%BCrer_(State_2).jpg
As you can see from the etching, Hollar did the image in reverse so there would be no confusion that it was done by Dürer but there are two very suspicious "facts" about this etching that we must examine.
First, whatever Hollar copied as the neckline code can not be accepted as "truth."  It differs so radically from what is really there that it becomes very suspicious in it's very existence. So it's unreliable as "evidence."
Secondly, Hollar depicts a coat of arms in the 1600's that is completely different than the Fürlegerin coat of arms that was added to Margret's portrait at some time.  This in itself raises suspicion.  What was added was two fish like herring in a circle with an upside down fleur de lis inside the "oblong" created by the fish.  The fleur de lis could either represent someone from France, or someone who was Jewish as the Iberian Jews had adopted the fleur de lis as a Jewish heraldic symbol. But it was not the Fürleger coat of arms, which were blue and yellow, not these coat of arms.
Further, the Hollar etching ignores the dots that are in the original painting, and Hollar Latinizes all the letters, losing much of the real detail in the original painting. Additionally, the Hollar etching depicts a supposed statute in the corner of the wall near the window, which is completely missing in the Margret painting.  Researchers claimed that the damage to the painting was so extensive that the statue was completely obliterated from the original painting.  There's a high probability the statue was never part of the original painting.
So was Hollar purposefully covering up what was really in the painting or was he just "doing' his best to interpret what he thought was there?  I would lean towards purposeful cover-up based upon how radically different the neckline code symbols are,  what's really there and the fact that he was under commission from Lord Arundel, a voracious Dürer collector, who had as much greed for Dürer art as did Willibald Pirkheimer, Dürer's lover and nemesis.
We will ignore the Hollar print as evidence of truth of what's in the Margret portrait.  And look at the real truth of what's there.
THE MIRACLE NEW TYPE OF ENCODING NEVER SEEN BEFORE IN THE DÜRER CIPHER
What's astounding about this encoding in the Margret neckline and which tends to make one lean towards this having been concocted by Margret and painted by Margret, is that most of  the "letters" displayed are not letters of any alphabet.  What they ARE are goldsmith tools used to make up what looks like letters in most of the coding.  These goldsmith tools are used in different perspective configurations, e.g. some are shown sideways as these would have appeared if viewed that way or straight on towards the viewer confounding the viewers' perception. This is one of the reasons no one could decode this message.
We will reveal the meaning of the coding in Part II of Cracking the Margret Code.
---
[1] http://en.wikipedia.org/wiki/Wenceslaus_Hollar