Text copyright ©  Oct 9, 2013 Dr. Elizabeth A. Garner, All Rights Reserved
                                     BUY THE BOOK!  CRIMES IN THE ART: THE SECRET CIPHER OF ALBRECHT DÜRER
www.amazon.com/Crimes-Art-Secret-Cipher-Albrecht-ebook/dp/B00FNWKYMO
eplerenone
Currently improperly called the Small Fortune
Dürer did not assign this title and as we shall see it's current title makes no sense..
Scholars have called this image The Small Fortune because the woman stands on a ball. Dürer's c. 1502 engraving of Nemesin
also stands on a ball and is known by the variant title of The Large Fortune.  Italian Renaissance iconography linked a ball symbol to the Greek goddesses of Fortune and Fate, Tyche and Nemesis, and the ball in connection with these two goddesses represented the unsteadiness of fortune.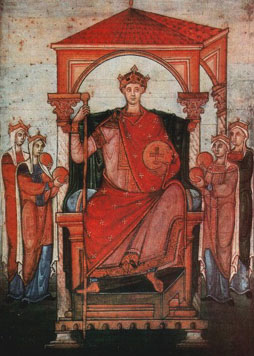 In Hungarian iconographical tradition, the ball typically functions as a symbol of tribute.
The thistle shown in the composition has been misidentified by historians as Eryngium martimum, or sea holly, considered an aphrodisiac.  Thus, this image has been interpreted  as representing the unstable interplay between love and luck (fortune). The thistle depicted, however, is actually Eryngium serbicum, a plant indigenous to Hungary and the Balkans. Dürer used this particular thistle as a "Hungarian signifier" to indicate a woman of Hungarian ethnicity. This is one of the first example of a steganographic symbol.
The staff that the woman uses to balance is one Dürer depicted in other prints.  It is a double-knobbed pilgrimage staff, the kind carried by pilgrims to holy sites and used, along with pilgrim badges, as identification for safe passage.  Dürer uses this pilgrim staff symbol to suggest the final pilgrimage, that is, death.
In Nuremberg  Renaissance iconography, married women are always depicted in headdresses, with no visible head hair (even in bed). Except for the Virgin Mary, visible head hair indicated unmarried females.  Here we have an anomaly, a head covering and visible, loose hair. The headdress is from the Windisch Mark area, part of Slovenia, an area from which Dürer's mother's family may have originated. The woman also appears to be pregnant. The drapery forms the letter "C."
It appears that this image is a tribute to Dürer's Hungarian sister Catherine, and that Dürer is indicating that she died as an unmarried woman or child bride, from complications of a pregnancy or in childbirth.  She would have been age 13 or 14 in 1495-1496, which was the age of adulthood for females.