It has always been assumed that Albrecht Dürer was desperate to learn about perspective from the Italians because he was so concerned about improving his art. No one has ever considered the mathematical aspects of Albrecht's interest in perspective because he may have been using perspective to give us other information and mastering perspective might have been for messaging purposes.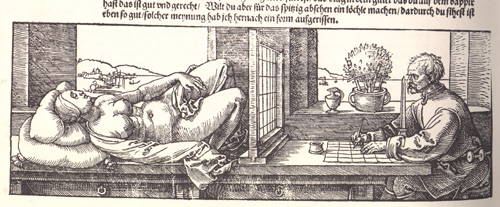 Bologna, Italy was famous for it's university and was under Papal control. Bologna was the only Italian city that allowed women to excel in any profession. Women had much more freedom than in other Italian cities; some even had the opportunity to earn a degree at the university.  We will not even attempt to describe the convoluted interconnections of Bologna with the Medicis, the Sforzas, the Pope, especially during the year that Dürer went to Venice in 1506-1507, but basically war once again was going on during 1506 between all the Italians, just as it existed when Dürer had first gone to Italy in 1494. We have to wonder why it Dürer was willing to subject himself twice to Italian world wars.
We do know that Dürer had to go to Venice to sue Marcantonio Raimondi for copyright infringement, the first such case prosecuted in Western Europe.  This information has been reported in a different article; Dürer  didn't get a total injunction but he got the Holy Roman Emperor to issue a special imprimatur to print on all his prints.
But let's get back to his incredible need to find out about perspective for the ONLY authentic documents of all his writings, other than one page of his diary is the ten letters he wrote his arch enemy Willibald Pirkheimer, that Pirkheimer walled up in his mansion, only found during renovations for a wedding 2 centuries later.
WHAT WAS SO DANGEROUS ABOUT THESE LETTERS?
On October 14th, 1506, Dürer wrote Pirkheimer that he was in financial trouble because even as he was writing the city was burning, six houses, which had housed woolen goods he had just bought the day before for 8 ducats had burned to the ground.  But he was learning dancing! He couldn't find any new Greek books for Pirkheimer, he was looking for feathers for Pirkheimer but could only find white but not green, he had ordered very expensive carnelian beads for Stephen Paumgartner (his former lover).
One of the letters from Duerer to Pirkheimer in his authentic handwriting from Venice
But the most important thing he says in this letter is this:  "as to your question as to when I shall come home, I tell you, so my lords may make their arrangements, that I shall have finished here in ten days.  After that I should like to travel to Bologna to learn the secrets of the art of perspective, which a man there is willing to teach me.  I should stay there about eight or ten days and then come back to Venice; after that I should come with the next messenger."[1]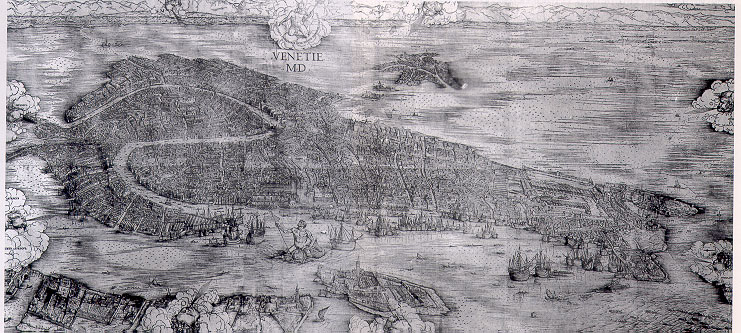 Jacopo de Barbari who had published the Map of Venice before he left for Nuremberg in 1500, met up with Albrecht when he arrived there, who he may have already known from Dürer 's first Italian trip (a passage in a letter of Dürer's is ambiguous). They discussed human proportion, not obviously one of de' Barberi's strengths, but Dürer was evidently fascinated by what he had to say, though he recorded that de' Barberi had not told him everything:
…I find no one who has written anything about how to make canon of human proportions except for a man named Jacob, born in Venice and a charming painter. He showed me a man and a woman which he had made according to measure, so that I would now rather see what he meant than behold a new kingdom… Jacobus did not want to show his principles to me clearly, that I saw well. (From an unpublished draft of the Introduction to Dürer's own book on Human Proportions)[2]
The question becomes, what was everyone hiding?  Art techniques or something more important having to do with mathematics?  Every craftsman was jealously guarding secrets be they architects or builders and these secrets were mathematical in nature.
More in Part II
---
[1] Fry, Roger, Editor, Durer's Record of Journey to Venice and the Low Countries, Dover publications, Inc, New York, 1995, pg. 27
[2] Early Italian Engravings from the National Gallery of Art; JA Levinson (ed); National Gallery of Art, 1973, LOC 7379624.