Copyright Dr. Elizabeth Garner  All Rights Reserved
Equal parts historical art, mystery and scientific exploration, the altarpiece, or retablo, of Ciudad Rodrigo adorned an altar at a cathedral in west central Spain. It is considered by scholars to be some of the most beautiful and iconographically ambitious paintings of the 15th century.
Veiled for centuries behind a curtain on the altar of a medieval church in Spain, the Retablo of Ciudad Rodrigo held a history of secrets. Then, over the next 400 years a series of benefactors and some luck helped the artworks survive natural disaster, war, and neglect.
The sacred masterpieces were meant simply to record the life of Christ. But investigators looking beneath the surface made unexpected discoveries… including images which were never meant to be seen. The whole 36 panel retablo has been restored over and over because of so much damage to it through the centuries but the underpaintings have never been disturbed and they tell the tale.
The results of the investigation astonished art historians and scientists. For the next five years, art historians, conservators and scientists studied the Retablo, employing the most modern technology such as x-radiography, infrared reflectograms, ultraviolet light and medium analysis. After more than 500 years, the mysteries of the Altarpiece of Ciudad Rodrigo were revealed.
THE VIDEO
For the full hour video please watch at this link https://originals.azpm.org/secrets/ if you can. Since I found this link, four days later I couldn't get back to the link, finding that the video had been sold off to PBS and was now only available for purchase. If you can get to the link or buy the video, which is well worth buying, you are definitely going to want to go to time frames 33:22 and 46:08-46:27 but the pictures that are important from these frames I was able to capture and will show you here.
Cuidad Rodrigo near Salamanca, Spain, was located very near the Portuguese border. This area is the place Jews expelled from Spain during the Inquisition and supposedly a Jewish Columbus left Spain AND was THE RE-ENTRY POINT OF CONVERTED JEWS, THE CONVERSOS, later in history. By 1493-1494 the University at Salamanca was a very famous university in Europe.
Because of the xraying of the underdrawings, researchers were able to determine for sure that three artists worked on this altarpiece.
The three artists are Ferdinand Gallego, who leaves three signatures, Master Bartolomu who's hallmark style is having halos fanning out all over the head as opposed to a split ray halo in three parts like a trinity, and Francesco Gallego, who may or not be a relative of Ferdinand.
The Retablo was made 1480-1488, exactly during the time that Albrecht Durer was apprenticed to Michael Wolgemut for the illustrations of the Nuremberg Chronicles.  This area of Spain was known for sending Spanish wool to Flanders and then finished cloth being returned from Flanders to Spain, indicating a thriving trade between the two countries and "an information superhighway" which allowed the dissemination of new political ideas and artistic techniques to be dispersed back and forth between these countries. The Retablo researchers expected to find egg tempura base for the paint pigments in this masterpiece, but there was none, only a Flemish type oil base; oil based painting was invented in Flanders.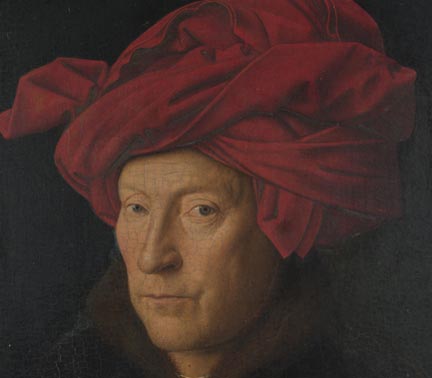 Jan van Eyck is the most famous Flemish oil painter of the 1420's-1430's. A member of a family of painters traditionally believed to have originated from the town of Maaseik, in the diocese of Liège. He invented oil painting as opposed to using an egg tempera as the base for the paint pigments Van Eyck pursued a career at two courts, working for John of Bavaria, count of Hainaut-Holland (1422–24),  and then securing a prestigious appointment with Philip the Good, Duke of Burgundy (1425–41).
Employment at court secured him a high social standing unusual for a painter, as well as artistic independence from the painters' guild of Bruges, where he had settled by 1431. Evidence that the Van Eycks bore a coat-of-arms, and thus belonged to the gentry, and that Jan was literate (as shown by his own handwriting on a drawing), is consistent with the probability that some of his frequent travels for the Duke were diplomatic missions. Many aspects of his work were surely intended to promote his personal reputation and abilities, including his practice of signing and dating his pictures (then unusual), and his playful and quasi-erudite use of Greek transliteration in his personal motto Als ich kan (As well as I can).
What is silly for present day researchers to claim about van Eyck is that his fame for trompe-l'oeuil  included in his paintings was done for sheer whimsy.  They never consider that van Eyck was encoding his artwork: inscriptions simulate carved or applied lettering; grisaille statuettes imitate real sculpture; painted mirrors reflect unseen events occurring outside the picture space. In Arnolfi Portrait, the convex mirror on the rear wall reflects two tiny figures entering the room, one of them probably van Eyck himself, as suggested by his prominent signature above, which reads "Jan van Eyck has been here. 1434."
Van Eyck is definitely known to have worked in Castile bringing the Flemish oil painting techniques to the Spanish. He arrived in Lisbon Portugal on December 18, 1428 and went to Aviz to meet the King of Castile on Jan 12, 1429, where he concentrated on painting the Infanta's portrait. Then he proceeded to make the pilgrimage to Saint Compostella, thereby journeying through the province of Vallodolid, meeting  John I, the King of Castile, Duke of Arjona, solidifying the marriage of the Infanta to Duke Philip of Burgundy in Flanders.  Van Eyck escorted the Infanta back to Flanders.
Underpaintings reveals FERNANDO leaves color notes for his apprentices and uses cross hatching and it's believes that he learns this from having a model print from Martin Schoengauer of Colmar, Germany, which means Schoengauer's work had widespread exposure. Everyone believes Albrecht DÜRER wanted to do his journeymanship in his workshop. Schoengauer was the most famous German print master until Albrecht DÜRER.
FERNANDO does simpler backdrops and contemporary dress  with his figures and the underpaintings proved Fernando  absolutely knew the laws of geometrical  perspective because the remnants of a perspective vanishing point was found. Thus, he was probably trained as a print draftsmen.
FRANCISCO Galeago was not trained as a drafstmen but we know he worked on this retablo from contracts still extant.
The exceptionally weird thing about Bartolemo's underdrawings seems to imply that he had knowledge from Anton Koberger's Nuremberg Chronicles, which is an impossibility, since the retablo was completed in 1488 and Koberger didn't publish the Chronicles until 1493.  This idea comes  from his supposed copying of what Durer did in the Nuremberg Chronicles in the Adam and Eve series of the book into the retablo. However, when all things seem impossible, there is a logical answer.
HOW DOES THE IMPOSSIBLE BECOME POSSIBLE?
Since DÜRER was reapprenticed to Michael Wolgemut for the express purpose of learning to be an illustrator in 1486 to work on the Nuremberg Chronicles illustrations, it was very possible that Koberger could have been issuing individual sheets of the book as the illustrations were completed and selling these as individual sheets.  Koberger never lost an opportunity to make money.  Or it could have been Wolgemut who did this, since he didn't have a firm contract with Koberger but only with the financiers, Schreyer and Kammermeister.  No Nuremberg merchant lost an opportunity to make money. Which would indicate that there was a very fast dissemination of illustrations from Germany to Spain over some trade route.  The "internet" was very active apparently.
One of the most interesting things about this retablo is what is known as the pentimenti-underdrawings that got changed in the final version showing things like lily plants and the magdelene's jar originally intended but GONE by the final version. In the scene of the Last Supper the underdrawig indicates the intent of depicting a very specific Spanish bread with a hole in it, called a rosco, which someone must have told the artists made no sense.  The rosco was leavened bread and the last Supper represented a Jewish Seder, where all leavened bread is banned.  The final painting depicted unleavened bread.
One of the strangest panels is titled CHAOS and includes lettering that was never part of the Spanish alphabet.  You see this here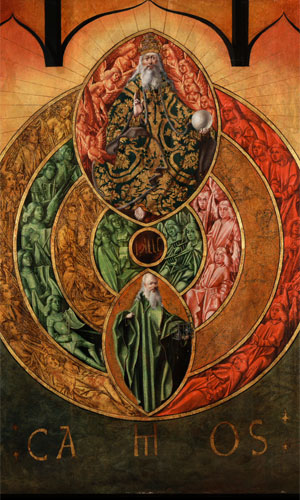 But the weirdest is one of Fernando's signatures
HE HAS A 9, A BACKWARDS N, BARS ACROSS SOME OF THE LETTERS AND A WEIRD LETTER S that we find all over Duerer prints and drawings. It is reminiscent of the DÜRER Cipher. Is it possible that the DÜRER Cipher was something that was already in effect in Europe? and that the Durers were actually using a symbol language already accepted as a messaging system, developing this messaging system in more depth?
Stay tuned.