Copyright by Dr. Elizabeth Garner, all rights reserved worldwide, Aug 12, 2013
                                     BUY THE BOOK!  CRIMES IN THE ART: THE SECRET CIPHER OF ALBRECHT DÜRER
www.amazon.com/Crimes-Art-Secret-Cipher-Albrecht-ebook/dp/B00FNWKYMO
"And then there were two…." Agatha Christie, Ten Little Indians
One of the most exciting revelations that the Dürer  Cipher presents to us is the strong evidence of two artistic "hands" in Dürer prints and paintings. In other words, all evidence points to the fact that Albrecht Dürer was not encoding his art alone from the years 1496-1514.
This concept is something that no one throughout all of history would have ever had a reason to postulate until the data that would allow the formulation of this hypothesis was published in the Nürnberg Forschungen in 1971, and then the  Dürer Cipher was cracked by me roughly by 2009 (and I keep finding clues which continues to cement the accuracy of the Dürer Cipher to this day).  But by 1971, no one was looking for any new, clearer interpretations of Dürer's art and still aren't today and I didn't find the evidence of the nail in the coffin until 2008. World class museums and institutions seem to have given up on any new interpretations of Dürer's art and embedded messages, and have yet to engage in any conversations regarding the obvious coding, but they continue to do some marvelous work updating catalog raisonnees and collating provenance information.
It was common in the Renaissance for apprentices to help Masters (Meisters) complete artworks and for it to be legal to do so, it still remained legally the  "work" of the artist.  And it was illegal for any Renaissance artist to copy someone else's work in total without leaving some sort of evidence that the copier's work was not that of the Master's. Usually this was done by modifying the monogram of the original artist, or by substituting the monogram of the copyist's work for that of the Master's, or by creating the image in reverse (backwards).  That way the public was not deceived and that was the goal of the Holy Roman Emperor.  It explains why Dürer sued Marcantonio Raimondi in 1506 in Venice for copyright infringement, the first European lawsuit of this kind.  Raimondi was literally passing off his own work as Dürer's. While Dürer did not achieve getting the Holy Roman Emperor Maximilian to injunct Raimondi for his plagarism, Dürer did receive the privilege of publishing a disclaimer on his prints, which marked  his prints as real.
What Dürer conceived as his imprimater is delicious.  We know he published this statement at the end of bound editions of  The Life of the Virgin, The Large Passion, and the reissue of The Apocalypse in 1511. Here is a translation of what Dürer printed on the back of his prints:
"Secret begrudgers and thieves of the labor and invention of others:  Keep your audacious hands from this work: Per privilege accorded by Emperor Maximilian, no one may copy these pictures, nor reprint them from spurious blocks, nor sell prints within the boundaries of the Empire.  Whoever acts contrary to this command, be it disregard or avarice, will expose himself to great danger and risks the confiscation of his property."  Pretty strong words, Dürer was taking no prisoners.
There are so many of Dürer's prints that were legally copied, that the Germanisches Nationalmuseum Nürnberg staged an exhibition to display these copies 8 July –Sept, 1978, exhibition catalogue titled "Vorbild Dürer."
Let's look at a few:
Here's the original of Dürer's Small Passion "Fall of Man" print and then a picture of Raimonidi's legal copy, notice the monogram has been replaced: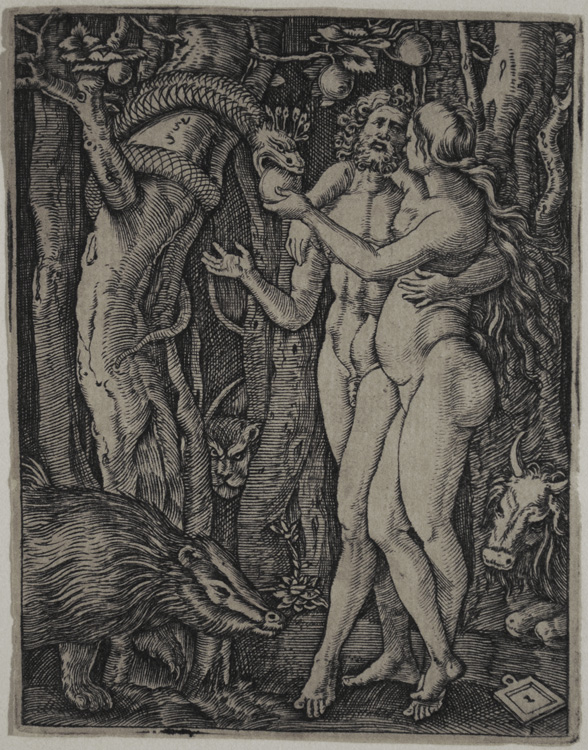 And then another example of Raimondi's copy of Dürer's Small Passion The Flagellation
and Raimondi's copy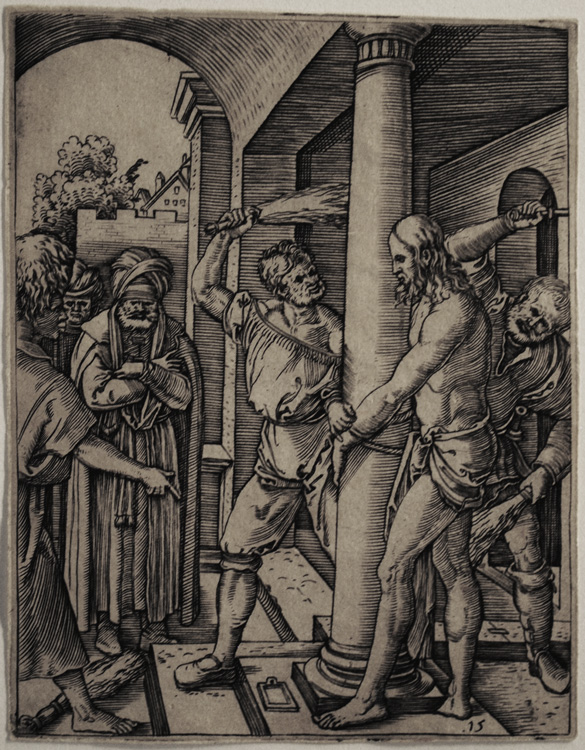 But what is odd is that there are Dürer prints that contain a backwards "d" in the monogram that we know were made by Dürer and which are the hallmark of what a copyist would do. Dürer 's customers would tend to think that these images were copies made by someone else. Dürer had no need to do this and could easily confuse his customers, so why did he?  We have to peer much closer at the themes of the prints in which a backwards "d" monogram exists to start understanding these monograms represent the co-artist. A few examples of these are the following:
and this engraving:
And what we have  in the Small Passion is a theme of a savior appearing to a virgin woman and giving a blessing to her, the birth of a savior, and a savior entering into Jerusalem.  It becomes a matter of deciphering who the savior was in each of these instances. The engraving decodes into information about 5 of Dürer 's siblings, two sets of which were twins, and that one set of twins were Capricorns, the Sea-Goat (the naked woman rides on the tail end of the Sea-Goat, Capricornus, forwards).
Let's look again at Dürer 's painting style in 1498, specifically the Haller Madonna.  There are two paintings on this one canvas, the Haller Madonna and on the reverse, the backwards part of canvas which is especially important to note, is the painting of Lot and his Family Fleeing Sodom.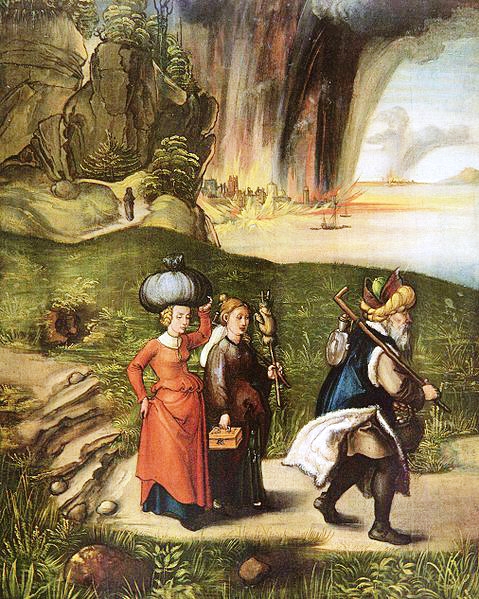 Stylistically, it is hard to accept that these paintings were done by the same person and yet everyone has had to until now, there has been no other plausible idea to consider.  The scene  from Lot looks amateurish and cartoonish.
Let's look at some of Dürer 's early compositions for stylistic evidence.
One of the early woodcuts is Hercules, which is actually dreadfully executed, it is hard to imagine that Albrecht did this composition but the block has survived and resides at the British Museum:
or this image of the Syphilitic Man, which we have seen in my article "Morality is a Venereal Disease" that Dürer was commissioned to do as a public health measure in 1496;
and this very stiff Agony in the Garden from the Large Passion series that is presumed from stylistic interpretation to have been made by Dürer circa 1496-1497
and then comes the Apocalypse, with talent that bursts forth for which there is no real foundation based on what has gone before.  How did Dürer suddenly develop such different talent, did he actually do this alone?
So let's take a quick look at the engravings published concurrently with the Apocalypse in 1498:
What we see in this heavily encoded print is what we get used to seeing in Dürer prints.  Fabulously executed landscapes with figures either in profile or close to profile which appear traced or close to traced. And we suddenly have cartoonish characters in the background here (Turk or Oriental potentate with stick figures basically of women swimming in the background) reminiscent of the style of Lot and his Family fleeing Sodom.
This strange style continues through 1501 with the publication of the Eustachium, which coincides directly with the final period of Dürer working without apprentices, where all that he was doing remains shrouded in mystery.
The landscape portions are wonderful, the other images are flat and traced, all figures are in profile, which is easier to do if one is tracing, except one dog, and that dog doesn't have a lot of movement to it.  This engraving is one of clearest examples that there were two hands in the art through 1501 if one realizes that one artist is the master in landscape portrayal. Dürer, the mathemetician and master of optics, does the landscape portions of the compositions and somebody else appears to be doing the tracing and placing of figures in the compositions.
But what is even more fantastic is the co-artist was also encoding messages, separate from what Albrecht was passing, and it doesn't appear that Albrecht was pleased about this activity or sometimes even aware of them.
Who could this person be?
More to come next week.
Best Wishes